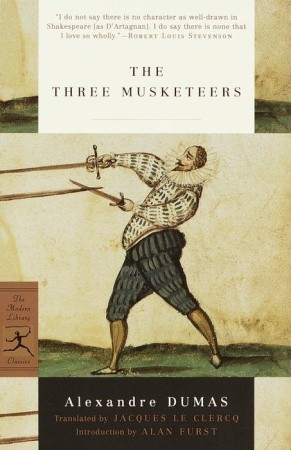 Title: The Three Musketeers
Author: Alexandre Dumas
Date Started: August 7, 2014

Other Works by Author:
Twenty Years After
The Man in the Iron Mask
The Count of Monte Cristo
The Black Tulip
Queen Margot

Genres: History, Romance, Drama, War
My Rating: 2

Good for Ages: 16+ (Explained below)
Summary: The Three Musketeers tell the story of the early adventures of the young Gascon gentleman D'Artagnan & his three friends from the regiment of the King's Musketeers-Athos, Porthos & Aramis.
Under the watchful eye of their patron M. de Treville, the four defend the honour of the regiment against the guards of the Cardinal Richelieu, & the honor of the queen against the machinations of the Cardinal himself as the power struggles of 17th-century France are vividly played out in the background.
But their most dangerous encounter is with the Cardinal's spy. Milady, one of literature's most memorable female villains, & Alaxandre Dumas employs all his fast-paced narrative skills to bring this enthralling novel to a breathtakingly gripping & dramatic conclusion.

My Thoughts: I liked the main story, dodging, foiling, and defeating the villain, a spy of the cardinal. But the two of the lead characters are in affairs with married women and there is a lot of unnecessary description of romance between people that shouldn't be together (nothing inappropriately descriptive though).
Another reason I marked the age as older is the last chapter is a rather descriptive scene of the execution of the villain.
Overall it was an awkward book to read.

My Favorite Quotes:
Of course there's the famous quote from the book: "All for one and one for all."
"The merit of all things lies in their difficulty."
 Where can you get this book: Amazon